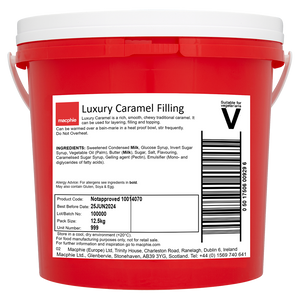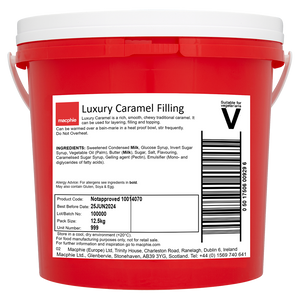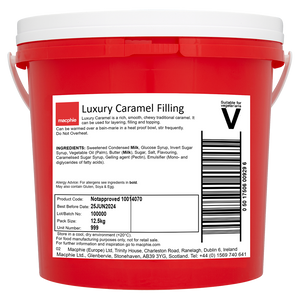 Macphie | Luxury Caramel Filling | 12.5kg
SKU : GEM00721
GF

Gluten free

NF

Nut Free

PF

Peanut free

VG

Vegetarian
A velvety, traditional caramel that boasts a rich and chewy texture.
Perfect for layering, filling, and topping, this luxurious treat can be gently warmed over a bain-marie directly in its container or transferred to a heatproof bowl for heating.
As it warms, the caramel softens to the ideal consistency for spreading, flooding, piping, or injection applications.
Upon cooling, it effortlessly reverts to its original texture, allowing you to effortlessly slice it using a warmed knife or ultrasound cutter.
This versatile caramel filling is a culinary delight, especially suited for enhancing caramel shortbread, millionaire shortbread, caramel cups, caramel apple tarts, doughnuts, and various traybake creations.
Elevate your desserts with the unparalleled richness of our Luxury Caramel Filling.