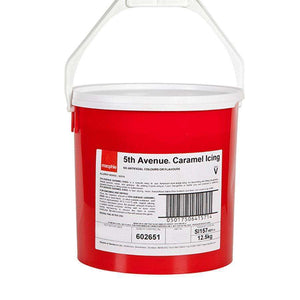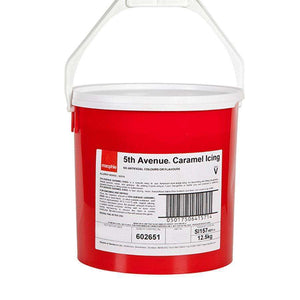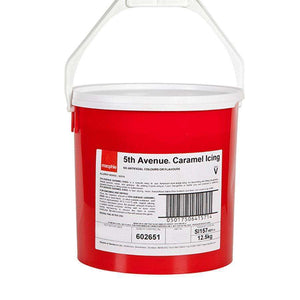 Macphie | 5th Avenue | Caramel Icing | 12.5kg
SKU : GEM00045
GF

Gluten free

NF

Nut Free

PF

Peanut free

V

Vegan

VG

Vegetarian
This caramel icing is easy to apply, dries fast and won't crack or become brittle once hardened. It is also more freeze/thaw stable than fondant. Suitable for enrobing, dipping, piping and can be mixed with butter to obtain a buttercream type frosting.
Macphie 5th Avenue® Caramel Icing is vegan certified and suitable for vegetarian diets.
To use for enrobing and dipping, place the desired amount of icing into a bain-marie or equivalent and warm to approximately 45 degrees stirring regularly. Do not overheat as this will reduce gloss. For a thicker icing, heat to only 30-35 degrees and for a thinner icing thin with sugar syrup.
To make a pipeable filling, beat the icing on its own for a dense, rich filling or add 330g of butter or cake margarine per 1kg of icing for a lighter, more buttery finish.
To make a firm set filling, heat the required amount of icing in a bain-marie or similar to at least 65 degrees. The warmer the icing is heated, the firmer set will be obtained.