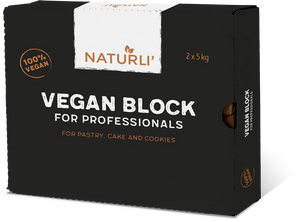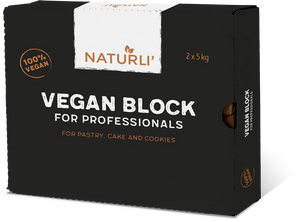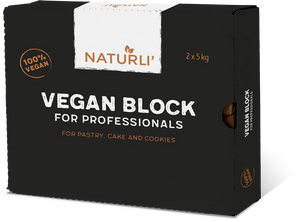 Naturli | Vegan Block Butter Alternative for Professionals | 2x5kg
SKU : CHL00102
PF

Palm free

V

Vegan

VG

Vegetarian
Introducing our revamped Vegan Block, meticulously crafted to cater to the discerning needs of artisan bakers. Crafted with utmost precision, our Vegan Block is the epitome of perfection for those who indulge in the art of baking. Here's what sets it apart:
100% Plant Based: Embracing the essence of plant-based goodness, our Vegan Block is a testament to our commitment to a sustainable and ethical approach.

Palm Oil Free: Delight in guilt-free indulgence, knowing that our Vegan Block is entirely free from palm oil, making it an environmentally conscious choice.

No Hydrogenated Oils, No Trans Fat: We take pride in crafting a product that is free from hydrogenated oils and trans fat, ensuring a healthier choice for both you and the environment.

Unique Mouthfeel: Experience a unique mouthfeel that sets our Vegan Block apart. Its lower melting point in comparison to butter gives your baked creations a distinct texture that's a delight to the senses.

Lower in Saturated Fat: Revel in the goodness of a product that boasts lower saturated fat content than traditional butter, making it a healthier alternative without compromising on taste.
Our Vegan Block is versatile and tailored for various baking applications, making it an indispensable ingredient for artisan bakers:
Perfect for Croissants, Danish Pastries, Cookies, Baked Fillings, Whipping, and Soft Doughs: Whether you're crafting flaky croissants, delicate Danish pastries, or delectable cookies, our Vegan Block is your ideal companion in the kitchen.

Professional Use: Designed with professional bakers in mind, our Vegan Block is engineered to meet the highest standards of excellence in the culinary world.
Important Usage Guidelines:
Handling Temperature: Vegan Block should be handled at a maximum temperature of +10 – +12 °C, akin to butter, due to its lower melting point.

Lamination Process: Stressing the dough should be avoided. We recommend a maximum of 64 layers (3 x 4 layers) during the lamination process. Cooling the dough may be necessary if additional layers are desired.

Proofing Temperature: For laminated dough with yeast, the proofing temperature should not exceed +26 - +27 °C to maintain the integrity of the layers, volume, and crispiness.

Specific Recommendations: For cookies with a high fat content, keeping the dough chilled before usage is advised. Similarly, for sugar cake/pound cake and almond paste batter, Vegan Block's handling temperature should not exceed +12 - +14°C.
Discover the art of artisan baking with our Vegan Block – the epitome of perfection and innovation in the world of plant-based baking. For inquiries and orders, call our dedicated sales line at 01924 223 710. Elevate your creations with the excellence of our Vegan Block.